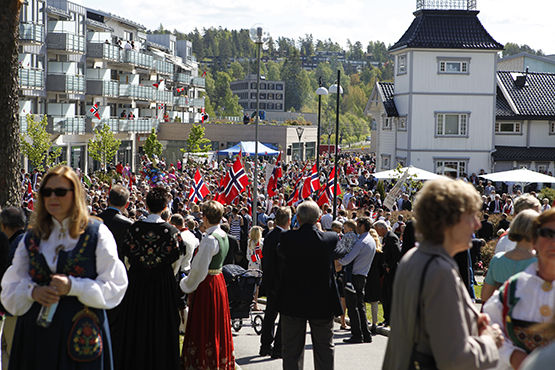 Welcome to Oppegård
Oppegård is known as the "green community" in the county of Akershus. Oppegård extends to 37 square kilometers, has a population of about 26 000 and can offer a wide variety of nature and beautiful surroundings.
Oppegård is well served by the E6 and the E18, which runs north to south and provides direct access to Oslo, and easy access to the Continent. A coach service (Flybussekspressen) connects to Oslo Airport Gardermoen in 60 minutes. There is also a well used public transport system providing railway and bus links to Oslo and the main centres around the capital.
Commercial activity
Oppegård comprises a range of small, medium-sized and large businesses. IBM, DSV, Jernia and Volvo are some of the larger firms which have located their national headquarters to Oppegård. Today, some 10 000 em-ployees work in Oppegård. About 10 000 of Oppegårds inhabitants are at work. It is a well educated and highly motivated workforce.
Sport and culture
Oppegård is a sporting community. The large number of athletic clubs enables you to practise a number of different sports. The community has sport centres, running tracks, football fields, slalom hills, a golf course, a svimming arena and forests perfect for running and walking. Oppegård also offers a rich variety of outdoor activities. The sea is never far away, with its beaches and a beautiful marina. Ingierstrand is one of the most popular beaches in the inner Oslo Fjord!

Roald Amundsen's home
Amongst the places well worth visiting is Roald Amundsens home "Uranienborg". It stands today as it did in 1928 when the polar explorer left it to rescue the Italian general Nobile and his men who had crashed with the dirigible "Italia". Amundsen disappeared when his plane crashed into the Artic Ocean, two years after Amundsen had reached the North Pole with the dirigible "Norway".

The ancient road (Oldtidsveien)
The ancient road was originally a riding path between Oslo and Halden. During the reign of Christian IV it was made into a carriage road passing Ødegården. This road still exists and can be seen on your way from Ødegården to Østmarka.
The present Council was established in July 1915. The coat of arms symbolises the farms that existed in the Middle Ages, with one tree for each farm.